Whenever people fall in love with New York, it's always for its diversity and vibrancy. There's a reason why they call it the City That Never Sleeps. With new sights and attractions to see, the relentless pace alone is a rush like no other. If the thought of these endless possibilities puts you in a tailspin, then look no further – our bike rentals are the answer. There's no better way to see New York City than by going on a bike ride through Manhattan – whether on a guided or self-guided tour!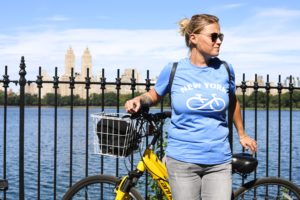 Why grab a bike? Here are a number of great reasons:
It's good for you
Women's Health says cycling is one of the best cardio workouts out there, with plenty of cycling clubs popping up all over the country. So you don't just get toned thighs and calves, you also have the opportunity to get together with like-minded people and have fun while getting healthy. It's now a social activity, one you could share with your friends via a weekly or monthly bike ride to catch up while doing something great for your health.
It's easier on you
Unlike other forms of exercises that could be hard on your knees, cycling gets your heart pumping and your legs moving all without putting too much stress on your joints. Running, for instance, takes a toll on your body. That's why you get aches and sore muscles. Biking, though, is far less damaging. It's a lower impact activity that keeps your muscles engaged so you won't have to feel like you're coming down with an injury.
It's a great way to explore
A bike rental in the Hudson River area is just a great way to see New York. If you like to go sightseeing but don't want to head over to the usual jaunts, this is a relaxing way to take in the city in a refreshing way. Embrace the rush of city-life from above by biking to the High Line to overlook the streets, head down to Chelsea Market and sample the delectable foods from fabulous shops, or be adventurous and head next door with your bike to hop on the ferry to New Jersey. Even with a bike, the exploratory possibilities are endless.
It's fun
You could grab a bike and go at it on your own. Take your time, go at your own pace and stop wherever you see fit. Or join a group of friends and pick up bike rentals to travel along the Hudson River Greenway. That way, you'll have a bike path to guide you along the waterfront and friends to talk to along the way.
It's family friendly
You could bring along the kids for a bike ride, too! It's a great way to give them a taste of adventure and make them feel like they're flying down the street. It's a fond memory they're sure to keep coming back to time and time again, especially if you make a stop at the nearby Intrepid Sea, Air and Space Museum, Discovery Times Square on 44th Street, or even bike down to Chelsea Piers for some rock-climbing, batting cages and bowling.
Just take the initiative to get on a bike and see where you end up. For rentals, contact us by phone at Hudson River Sightseeing Bike Rental, or www.HudsonRiverSightseeing.com.