Cherry Blossom season is immensely popular in Washington D.C. It's the time of year when the nation's capital turns pink. The trees are beautiful to behold and are an official harbinger of springtime!
A brief history
Mrs. Eliza Ruhamah Scidmore was an author and world traveler. After visiting Japan in the late 1800s, she proposed a plan for the planting of cherry trees around the Potomac river basin. It was several years before her proposals were taken seriously. Helen Taft, first lady of the United States, received a letter from Mrs. Eliza Ruhamah Scidmore about cherry trees in 1910. Mrs. Taft, who had lived in Japan, championed the idea but suggested some slight changes about where to plant the trees.
Two Japanese men, chemist Jokichi Takamine and Mr. Midzuno, upon hearing Washington DC was going to have cherry trees, suggested Japan gift the trees to the United States. The mayor of Tokyo, Yukio Osaki, approved the gift of 2,000 cherry trees which arrived in 1910. Unfortunately, these trees were diseased and infested with insects. The Department of Agriculture determined the trees needed to be destroyed. President Taft approved the plan and the trees were burned 22 days after arriving.
The Tokyo City Council and mayor Ozaki approved a plan to make another donation. In 1912, 3,020 cherry trees arrived in Washington D.C. from Japan. Thus, Cherry Blossom Season was born! For more information on this fascinating history, see here.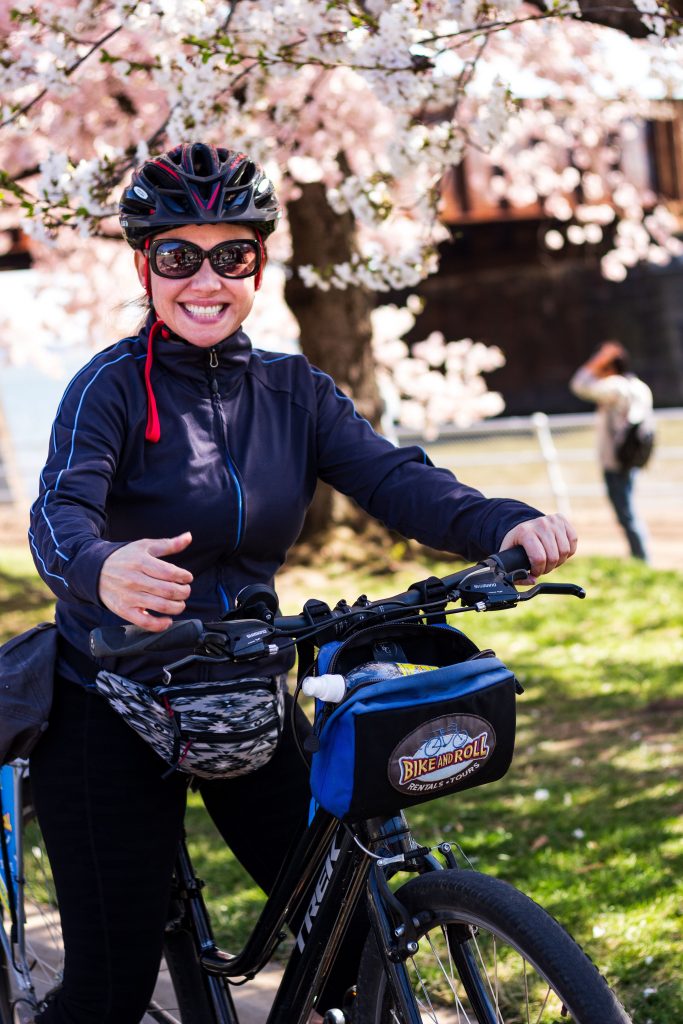 How to see the Cherry Blossoms
The best way to experience the Cherry Blossom Season is with a bike tour of the area. The tour is approximately two hours and runs from March 20th to April 12th. The tour runs at 9:30AM, 12PM and 3PM daily during this time! This exciting tour through the beautiful area begins at our store location at 998 Maine Avenue and takes you through the Potomac Tidal Basin to East Potomac Park and beyond! You will see where the first grove was planted. Our tour guides know this can be a busy and crowded area, so they will show you the best routes to see the best blossoms in the least busy areas!
The Cherry Blossom Festival runs from March 20th to April 17th in Washington DC! The opening ceremony is on March 20th and there will be a kite festival on March 26th. You won't want to miss the parade on April 9th! The parade route is free to the public and you can access it through several Metro stations. For more information, visit this website!
Ready to book your Cherry Blossom Bike tour? Give us a call at 212-749-4444 or visit our website. Questions? Contact us at [email protected]