(1) Inauguration Day 2021
Mark your calendars! On January 20, 2021, the new commander-in-chief will be sworn in on the West Lawn of the U.S.Capitol. Tickets to the ceremony are completely free, but must be applied for by contacting your local official in the office of your Congress members. Community leaders and volunteers are usually given priority so please explain that if you have any experience!
There will be limited seats this year, so please sign up as soon as you can! If you are not able to get a ticket, the National Mall usually puts up large screens for spectators to watch.
When you're in town, you can rent one of Unlimited Biking's bikes to easily get around and avoid having to find parking! Helmets, locks, bike bags and maps are included with each rental.
Book here!
(2) Segway or Bike Tour Around the National Mall
During your time in Washington D.C, as a local or a tourist, the Sites by Segway Tour and Monuments and Memorials Bike Tour offered by Unlimited Biking are unique and fun ways to see the different monuments, memorials and museums that the National Mall has to offer. Visit places such as the National Monument, World War II Memorial, Capitol Hill, Tidal Basin and more! You'll roll into the best places that D.C. has to offer- in style!
Book here!
(3) Visit the National Christmas Tree!
Every night, at sunset, the National Christmas Treein Washington DC turns on and turns off promptly at 10PM Sunday-Thursday and 11PM on Friday and Saturday. While the tree lighting this year was not live, you can watch it online here!
The America Celebrates site is free to visit and open to the public December 1, 2020 through January 1, 2021. Hours are 10:00am-10:00pm Sunday through Thursday, and 10:00am-11:00pm Friday and Saturday.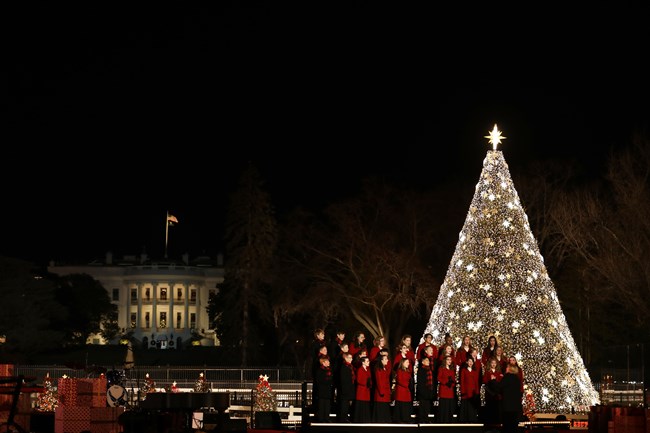 (4) Visit the Holiday Markets downtown!
In front of the Smithsonian American Art Museum, the downtown Holiday Market is an outdoor shopping village that is already currently open! It will run November 20th until December 23rd from 12PM until 8PM.Enjoy some roasted coffee, mini-doughnuts and more!
See here for more information.
(5) Artechouse-Crystalline: A Submerge
This experience is open until February 28. 2021, and takes viewer's on an adventure around Pantone's Color of the Year: Classic Blue. The color was selected as the "hue to sustain us during a time of change," which is more applicable than ever.
ARTECHOUSE is open from Monday to Thursday from 12PM-8PM and Friday to Sunday from 10AM to 10PM. Please view here to get tickets.
ARTECHOUSE, 1238 Maryland Avenue SW, Washington, DC 20024