Manhattan is huge and can be really overwhelming for visitors, tourists, and new residents. There's definitely a learning curve when you first come to the city. We've broken down some tips on how to move around the city seamlessly whether you're here for a short trip or moving here indefinitely.
The 5 Boroughs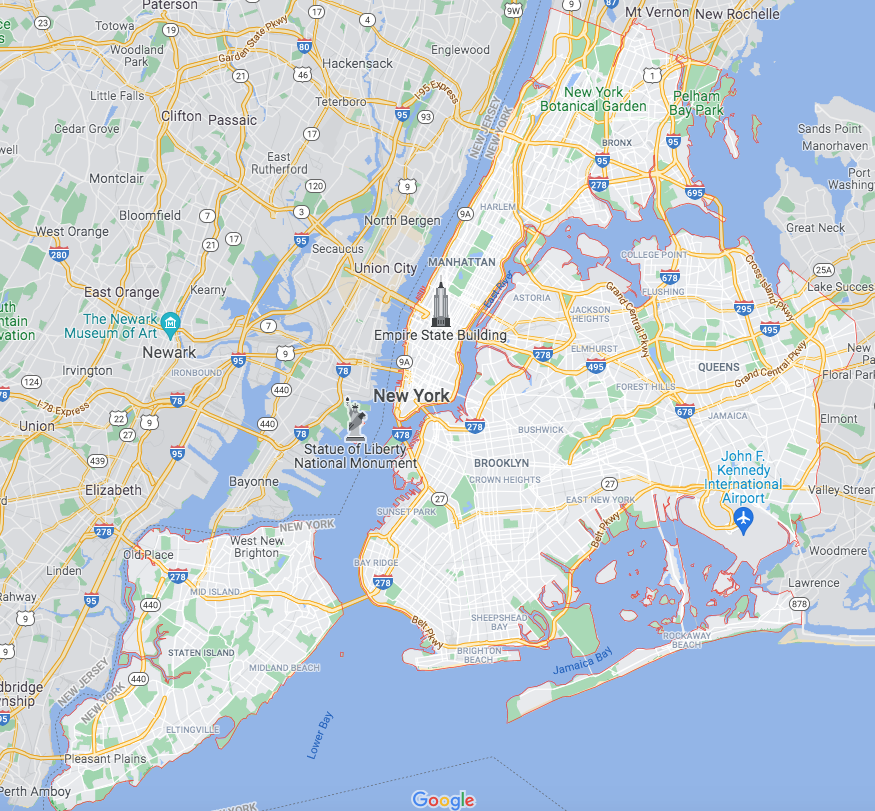 NYC terminology can get a little confusing, but it's not so hard once you know where you're talking about. Manhattan is an island in the center. Southeast of Manhattan is Brooklyn, while The Bronx is to the northeast of Manhattan. Queens is East of Manhattan and Staten Island is south of Manhattan. You have to take a ferry to reach Staten Island from Manhattan, but all the other boroughs can be reached by train. There are two rivers that run along the island of Manhattan. To the west is the Hudson River and the East River is, you guessed it, to the east!
The Subway System
The subway system is probably what tourists fear most about coming to New York. It can certainly be confusing and overwhelming. Because of this, many visitors end up paying way more than they need to for transportation! Here's what you need to know about navigating the MTA. Google maps is going to be your best friend for navigating the subway system. Type in your destination and it will tell you which train stop will take you closest to your destination. If you are going downtown, enter the subway from the east side of the road and if you are going uptown, enter from the west side of the road!
When walking up and downstairs, you should always stay to your right. This is true of walking on the sidewalks as well! Speaking of, there's this idea of New Yorkers being fast, impatient walkers. And that is true! You have to keep moving. If you need to stop and take time to figure out where you are headed, step aside from other travelers and let them pass. When entering the subway, make sure you let people out of the train before entering. It can get really crowded and this helps things move more smoothly.
The MTA has introduced a new system where you can use Apple Pay to tap onto the subway. You can also go with the standard Metro Card. Metro Cards cost $1 and every ride is $2.75 regardless of how far you go. The "Unlimited" Metro Cards cover every ride you take for a certain number of days. For 7 days the price is $33 and for 30 days the price is $127. Calculate out how often you will use the subway and see if this is a better option for you! Children under 44 inches tall ride free when they are with an adult. For more information, see here.
Parking
Here's the best tip: don't bring your car to Manhattan. It's so hard to drive here, and many of the streets are one way. However, if you are going to bring your car, I recommend finding a good parking garage. There is street parking available, but there's a good chance your car will get sideswiped or backed into by another driver. It might be expensive to use a parking garage, but at least you will know that your car is safely away from other drivers. Keep in mind that New York City charges congestion pricing to discourage drivers from creating large traffic issues. The tolls can range from $12 to $25. It's already expensive to visit the city, but driving a car here increases that price dramatically.
Try biking the city instead. You can rent a bike for $40 per day or $200 for a whole week! Rentals come with a lock and helmet. Bike lanes in New York are sometimes tricky to navigate, but they are worth the effort to get around the city in a quick and cost-effective manner. Many bike lanes are one-way or only go uptown/downtown. Check out this map to figure out the best route.
Rats and Roaches
Look, there's not much to say about rats and cockroaches. They are a part of the city just like everyone else here. They will usually keep to themselves, so just do your best to avoid them. Keep a wide berth from trash on the streets as rats are usually in there looking for meals. Keep an eye on the sidewalk to avoid stepping on any of them, and also look out for any dog poop. If you are sitting in any public area, scan around to make sure there are no roaches in the vicinity.
Wifi
LinkNYC provides free wifi and free calls across the city. This is really useful when you are trying to use your phone in public without a data plan. Just go to your phone's wifi settings and you will see LinkNYC pop up! You can even charge your phone at certain spots. Go to their website and see how you can start getting free Wifi on the go! The wifi is available in train stations, which is extra helpful if you need to rely on a map application on your phone. LinkNYC is also available on some MTA buses!
Finding a Public Bathroom
This is one of the most frequently asked questions. Some businesses will not have public bathrooms at all and some will require you to buy something in order to use it. You may have to ask for a bathroom code. However, there are public restrooms in most city parks, which are open while the park is open. However, sometimes when it storms, they will lock these restrooms, so don't rely on them too heavily. Finding a restroom has been so difficult and made even more difficult by Covid-19 that Dr. Wansoon Im, a professor at Rutgers created an entire website devoted to finding public restrooms across the city.
Food and Groceries
If you're just visiting for a weekend, you'll probably want to subsist on dollar pizza slices, food carts and trucks, and the trendy restaurants you've seen on TikTok. However, if you are staying for any long period of time, you'll want to find a reliable grocery store around you. Delis and bodegas are all around the city. They are great for getting a quick meal, grabbing a drink, or a few kitchen staples. Trader Joe's is probably the cheapest grocery store available in the city, but be careful because the lines are often out the door and around the block. Try going during business hours when it is less busy. Other grocery stores to check out around the city include Westside Market, CTown, Food Town, Morton Williams, Whole Foods, Gristedes, and Zabar's.
Tourist Traps
A lot of New Yorkers will roll their eyes at places tourists want to visit. Don't let this discourage you! They are popular for a reason. The Empire State Building, The Statue of Liberty, Washington Square Park, and more are exciting places to be and have so much history! Enjoy your stay and see all that you want to see. Just allow yourself extra time at all of these places. If you think it will take you a half-hour, add fifteen to 30 more minutes just to be safe. There are points in the city where a lot of people flock to and you don't want to be rushed when you enjoy the history and sights of these iconic landmarks. Since these tend to be high-traffic areas, riding a bike there is a better option than trying to uber or taxi!
Broadway
Broadway shows are a huge driver of tourists. Though sometimes pricey, these tickets are worth the experience. The difference between a Broadway and Off-Broadway show is the number of seats in the theatre. It does not necessarily speak to the quality of the shows. So, make sure your consider all of your options when buying tickets. It's really challenging to have a bad theatrical experience in NYC. You can go for the classic favorites like Phantom of the Opera and the Lion King or check out some new and experimental theatre like Six and Hadestown. If you wait in line at the TKTS booth in Times Square on the day of the show, you can get some discounted tickets!
Times Square
This is what most people picture when they think of Manhattan. Bright lights and huge billboards. Truthfully, most people who live in Manhattan avoid Times Square as much as possible. It's crowded with people and many of those people are stopping to take photos, so it is hard to walk through it as you make your way from one point to the next. Still, if you are visiting Manhattan, it's worth stopping by. Just make sure to give yourself plenty of extra time! You will probably need it. If you usually keep your wallet in your back pocket, this might be a good time to switch it to the front or keep it in a zipped bag. Don't worry too much. It's not like robberies are happening all the time, but the crowded area definitely makes it easier for pickpockets.
Central Park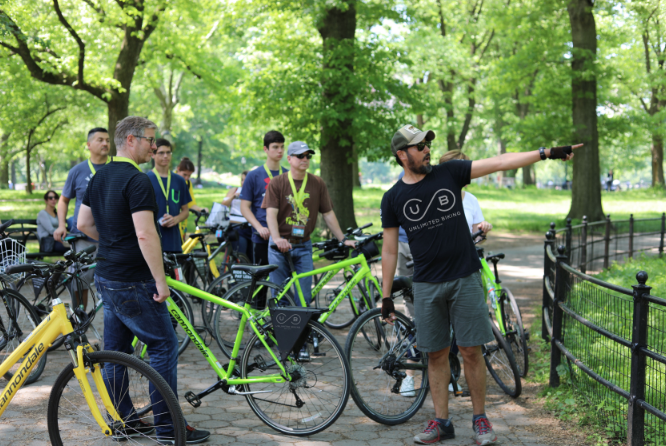 You can't visit Manhattan without going to Central Park. Between 59th street and 110th street is the oldest national, public park in the country. It's huge and stunning in any season. You'll want to see Strawberry Fields, Bethesda Terrace, The Literary Walk, and more! It can be a little overwhelming to navigate the park, but you absolutely need to visit it. Consider taking a bike tour in English or another language. If biking isn't for you, you might want to try a walking tour of Central Park. Try out a pedicab for a really exciting trip through Central Park. Snuggle up next to your partner or friend and enjoy the ride!
For more information about Unlimited Biking, call 212-749-4444 or send an email to [email protected]. Check out this blog to learn about all the rentals offered by Unlimited Biking!