On August 7th and 14th of 2021, Unlimited Biking partnered with Summer Streets! Summer Streets shuts down nearly seven miles of New York City for cars and opens them up for runners, bicyclists, and bladers from 7am to 1pm. The event is a celebration of New York City and the vibrant communities and art scene available to New Yorkers and tourists. We proudly offered 200 free bike rentals for this event. We were so happy to see people show up and enjoy this incredible experience! We wanted to share with you the photos from this event.
There are four rest stops offering fun and performances across Manhattan and multiple water stations for thirsty participants. The stops were located at:
Uptown Rest Stop: 51st Street and Park Avenue
Midtown Rest Stop: 26th/27th Streets and Park Avenue
Astor Place Rest Stop: Astor Place and Lafayette Street
Foley Square Rest Stop: Duane Street and Centre Street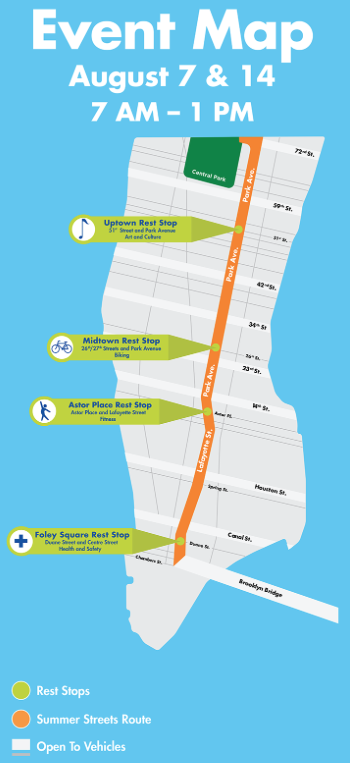 Some of the standout attractions from Summer Streets 2021 included the DSNY Trucks of Art exhibit, where artists used recycled materials to create works of art on large trucks. Another fun attraction was HYPOTHEkids' demonstration of how to make origami creatures. If biking isn't your speed, The Big Onion Walking Tour was well attended, showing the diversity of present-day New York and its long history. Along with these fun attractions and activities, there were plenty of local restaurants and businesses offering free samples.
Interested in joining us for Summer Streets 2022 or another biking event? Check out our website for event updates and learn how to rent a bike for an event here! And give us a call at 212-749-4444 or email us at [email protected]. We hope to see everyone next year!