February is Black History Month! Begun in 1926 by Carter G. Woodson and officially recognized by the United States Federal government in 1976, this month is intended to center and celebrate the culture and achievements of Black Americans. Sometimes this month is criticized for falling during the shortest month of the year, but it was originally a week-long event organized around Abraham Lincoln's birthday on February 12th and Frederick Douglass's birthday on February 14th. Below, we discuss ways you can celebrate and support Black History Month!
Read Black Authors
The Western literary canon is a hot button issue. It is largely criticized for being too male and too white. While some think the canon should be abolished completely, others want to expand what the canon is and what classic literature can look like. Reading diversely is a good practice all year, but Black History Month serves as a good reminder to include excellent Black authors and scholars in your normal reading practices. If you are not a fan of reading, try listening to audiobooks through Audible or through this neat app where all you need is a library card!
Toni Morrison: Perhaps the best known Black author in the world, Morrison's books are often heartbreaking and always beautiful. You can honestly pick up any of her books, but I suggest starting with Beloved, Sula, and The Bluest Eye.
James Baldwin: A gay Black man far ahead of his time, Baldwin is my personal favorite author on this list. He writes touching novels with a good dose of wit. Consider reading Another Country and Giovanni's Room.
Sojourner Truth: Though she is not known for being a writer, this abolitionist and women's rights activist gave a short and stunning speech entitled, "Ain't I a Woman?" This should be mandatory reading for every student and adult.
Langston Hughes: This Harlem Renaissance-era poet was a prolific writer of poems, novels, and nonfiction books. Pick up any of his poems and get transported back to his time and learn about the attitudes of the twentieth century.
Of course this is just a small sample of the enormous contributions Black Americans have had on the history of literature. But I encourage you to seek out all four of them as well as writers like: Maya Angelou, Zora Neale Hurston, Malcolm X, Colson Whitehead, Roxane Gay, and others!
Learn More About Black History at a Museum
This one is pretty self explanatory. Museums are some of the best resources for learning about history and feeling it come to life. See beautiful paintings, sculptures, and other art pieces created by Black artists and also learn about historical events through a Black lens. Consider visiting these museums:
National Museum of African American Culture and History Located in Washington DC, this is the gold standard museum on Black American history. If you are a DC native or planning your trip to the nation's capital, make sure you check this museum out!
International African American Museum Located in Charleston, South Carolina, this museum is not only informative about history generally, but is a great resource for Black Americans interested in their geneology.
The Studio Museum Harlem Located in Harlem, New York, this museum features art from artists across the Black diaspora. At the time of this writing, the museum is closed due to Covid-19, but we hope it will be up and running very soon!
Listen to Activists
If you are not Black, February is a great month to do less speaking and more listening. It's passé at this point to post a Martin Luther King Jr. quote on your social media sites and call it a month. If you want to share that quote regardless, make sure you find the speech or piece of writing and place it into context. Listen to the people in your community and across the country. Engage in new ideas and consider how you can support activist causes. I am going to refrain from listing specific activists as the best practice is to support locally. Find what impacts you and the people around you and advocate for change when necessary.
Donate Time and Money
It's no secret that racial inequality proliferates throughout America. Throwing money at any problem does not necessarily fix the problem, but it can certainly help in many cases! If you don't have money to spare, then donating your time can be just as or even more valuable. According to the National Alliance to End Homelessness, Black Americans make up thirty-nine percent of the homeless population despite only making up thirteen percent of the general population. Donate your time and money to local homeless shelters. They can often use non-perishable food and sanitary products as well.
GoFundMe is a crowdfunding platform. If you have money to spare, consider logging on there and making donations to the causes you care about most. You will see Black Americans on there struggling with medical debt, student loans, and paying their bills. You will also see Black Americans asking for seed money for their small businesses and art projects. Pick what speaks to you and give what you can!
Visit Monuments and Memorials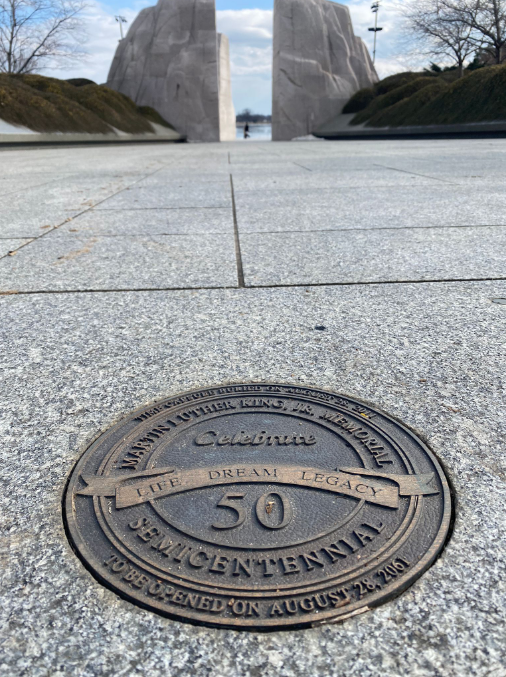 MLK's memorial in Washington DC is a striking and bold depiction of the legendary civil rights leader. On Unlimited Biking's Monuments and Memorials bike tour, you will get an opportunity to see this amazing memorial up close.
There are several monuments dedicated to black civil rights leaders and abolitionists in Harlem. To get more information on this wonderful epicenter of black culture, check out our guided bike tour of Harlem!
For more information about Unlimited Biking, visit our website. Give us a call at 212-749-4444 or email us at [email protected] for more information!