(1) Take a Horse and Carriage Ride in Central Park!
Romantic and iconic, Horse and Carriage Rides are one of the most popular activities to do for Valentine's Day around New York City. Guests can pick up a carriage from 59th Street and 6th avenue after reserving a time with Central Park Sightseeing. Carriages run from 10AM-4PM and 6PM-10PM as long as the weather permits. Short rides (15-20 minutes) and long rides (45-50 minutes) are offered.
Make this experience the most epic date for Valentine's Day. Pair it with a nice dinner to top it off. Show your significant other
Book a ticket here!
For any inquiries and questions: [email protected], (212)749-4444
(2) Embark on a Valentine's Day Romantic Cruise !
Take a cruise around the New York Harbor on Valentine's Day. Get private seating, live music, and food/drinks all night! Get the best views of New York City while relaxing and enjoying the company of your significant other!
Board your cruise at 3:45PM and enjoy a 2 hour cruise around Lower Manhattan, the Statue of Liberty, Battery Park, and both bridges!
Purchase tickets here!
(3) Take a Staycation in New York – 1 Hotel Brooklyn Bridge
Want to treat you and your significant other to a perfect stayaction right in town? The 1 Hotel Brooklyn Bridge just opened and its massive campus offers some of the best amenities that hotels in New York City have to offer. They are currently offering a Grow Your Love add-on package for an additional $150 that includes a bottle of Prosecco upon arrival, chocolate heart-shaped macarons and breakfast for two in bed. In addition, there are other offerings that include a couples spa for a facial, scrub, reflexology and champagne toast for $720.
For an even more lavish offer that includes astrology readings and sound bath, check out their Venus in 1 Package.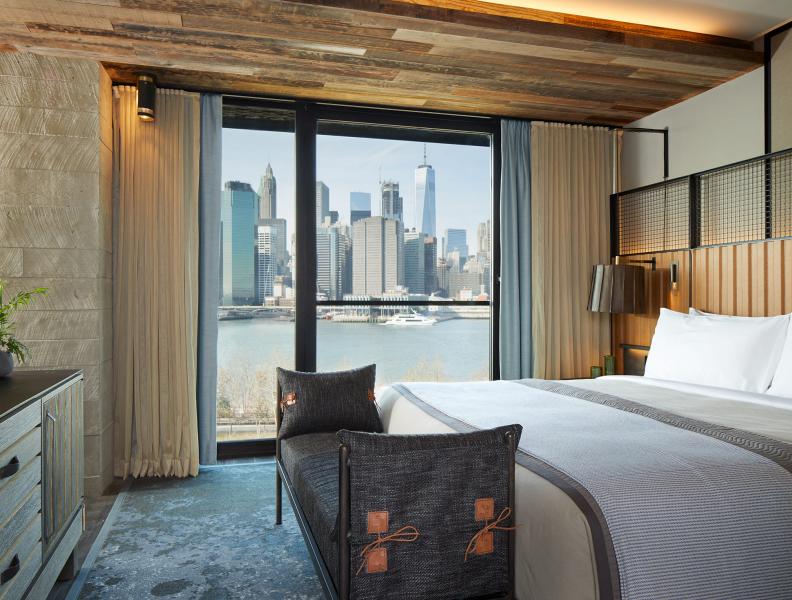 Check out the 1 Hotel Brooklyn Bridge here!
Call 833.625.6111 to book a stay
(4) Book a trip for the future – Book a bike rental or tour for the spring!
It's currently almost freezing in New York City- with very limited activities to do outside. There's no shame in celebrating Valentine's Day a little later this year! Book something for the spring – there are plenty of outdoor activities that would be a great date!
Take a Central Park Bike Rental and Picnic at Sheep's Meadow: Unlimited Biking offers gift cards at the moment! Buy one and use it for the Central Park Bike Rental and Picnic package- where guests can choose between 3 picnic boxes: The Signature Box, The Vegetarian Box, and The Vegan Box on top of their full day bike rental. It's the perfect date for when the weather gets a little warmer!
(5) Treat yourselves to a massage or spa date!
There are so many spa and massage options in New York City!
Why don't you try one right outside of the City? Sojo Spa is right across the bridge in New Jersey, and offers some of the best views of the New York City high-line. With a number of massages to choose from, this spa has everything that you and your significant other would need: https://www.sojospaclub.com/treatments/
Alternatively, experience the ambiance of an Ancient bath at Aire. Pick from one of their Valentine's Day Packages here. Open every single day of the week until 9PM, it can be easily paired with a nice dinner before or after.